Shop Local - Stufd from Innisfail
Shopping for the holidays happens for me the whole year round. When we travel, I'm always on the look out for locally made items that I can gift for birthdays or Christmas. Through my online shop on Etsy, I've discovered all kinds of local Alberta talent and over the next few months, I will introduce you to some of my favourites.
Today, I'd like to introduce you to Bonnie and her shop, Stufd.
BLOG
www.stufd.net
FACEBOOK
http://www.facebook.com/pages/Stufd/130054544750?ref=hl
FLICKR
http://www.flickr.com/photos/bon_stuff/sets/72157614737077129/
1. Please introduce yourself and tell us a little about how you started creating.
My name is Bonnie & I am a full time office administrator whom in my spare time, raises 4 kids, 2 cats, and sock monsters, with my awesome hubby :)
I have ALWAYS been a crafty lady, love painting, crocheting, scrapbooking, sewing, any crafts! In January of 2009 I started out making a few little sock buddies, just as a hobby, and I haven't quit since.
Their interesting characteristics, names, and stories have taken over, and leave me daydreaming about them morning, noon, and night!
2. What inspired you to move from creating as a hobby to creating as a business?
I love the reaction and smiles I get from people when they squeeze a little monster :)They are truly unique and fun. I decided to try out a market in Innisfail, my home town, and then moved on to a few bigger markets from there. I never personally thought of selling them, but I had the odd request after posted a few pics on facebook, which then lead to the odd market, Christmas markets, and Etsy!
3. Show us a few of your favourite pieces and why they are your favourite.
My current monster count is around 1800 or so, and I have had ALOT of favorites. Sometimes faceless incomplete monsters win me over, and I think... I need to keep this. But my darling hubby reminds me that I cannot have a hoard of sock monsters, so currently I have 2 main monster men. Dinnon, was my original.. I cannot let go of this monster. And to this day, I am so sad to say that I lost him I took him to Invermere with me a couple of New Years ago, and I think at a pit stop in Canmore at Tim Hortons, he jumped out of the car. Must have seen a mountain sheep or something, and I haven't seen him since.
Din, Klip in Black and Domo - photo courtesy Stufd
Above is a pic of Din, and his buddy Klip in Black, and some of you may know Domo, not a creation of mine
Sherman is now my main monster man, and travels with me most places You can read about his adventures on my blog.
4. What does shop local mean to you and why is it important?
Buying handmade and supporting local talent is extremely important, and I try to do it as much as I can! They are unique items that you will not find at a local chain store. Alot of artisans, myself included, cannot compete with big stores such as walmart, but our products are by far more superior for quality, with great attention to detail. Buying local, handmade items supports your community, it's more environmentally friendly, and not to mention you are getting unique personalized gifts.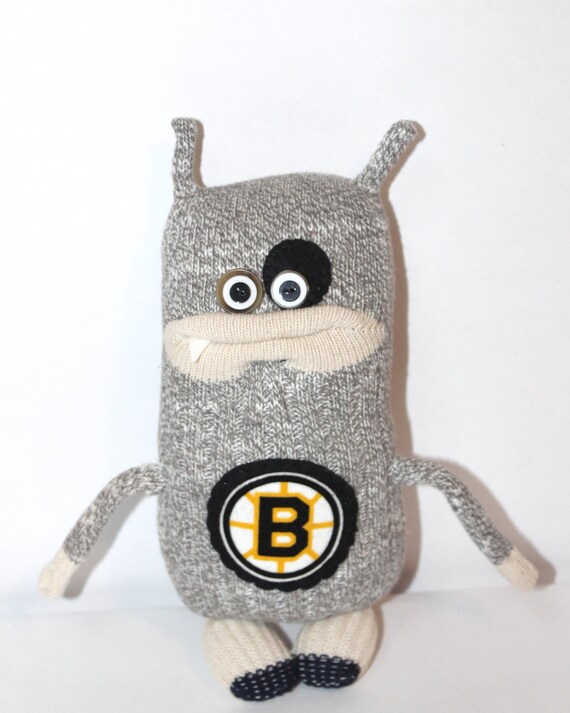 Bruins Hockey Fan - (Sorry, SOLD)
5. Is there any one moment or experience in developing your art or your business that stands out in your mind? Why?
The first market I attended in Red Deer, I sold 6 monsters, and it was awesome! It's a great feeling when you find that people love your work as much as you do. I was NERVOUS, but my sister came with me. Everything about the day was awesome!
My favorite market story... is when a dad and his 2 kids were at my table browsing at monsters, when the dad picked up a little red striped guy and said, we will get this one for your baby (brother) I believe. As I was putting the monster in the bag, I introduced his monster to him and said... your monsters name is Stan. And he looked at me funny and said.. my name is Stan. ha Guess they were meant to be! Every market I do, is an awesome experience. I get great feedback, and I have met sooooo many awesome people! It is way more fun than my day job! My hubby also does markets and sales with me, so it's awesome to spend that extra time together, and he enjoys it just as much as I do.
6. Do you have any of your pieces in a local shop or in an artisan market? Tell us where and when.
Currently I do not have any monsters outside of etsy. I have done the odd Red Deer Market this summer, but it's been a busy time, and nothing has been consistent. I have had them in a local Innifail shop, as well as Rocky Mountain House, and Drayton Valley . Currently I am stock piling for my first Christmas Sale of the year,
Our Best To You
, in Red Deer at the Westerner (October 26-28, 2012). I am hoping to have 250 monsters up for adoption that weekend
NOTE: Bonnie has a second shop,
SNOTTUB
, where she sells cute little buttons (or magnets) with incredibly cute & funny statements.
Thanks, Bonnie for sharing a little about your story with us!
--Ann